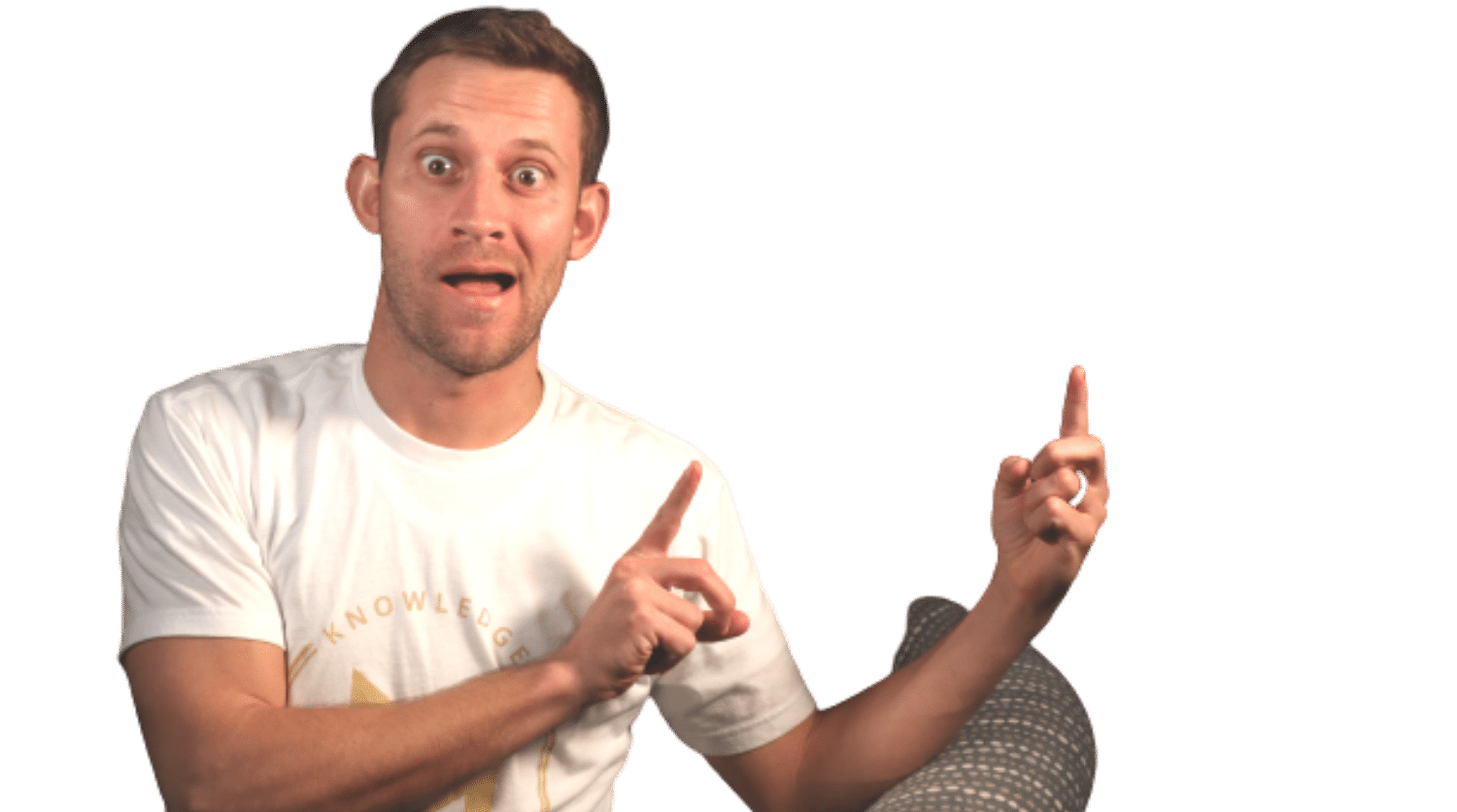 Looking To Start An Affiliate Marketing Blog?
Finding the best email autoresponder for your business can be a huge challenge. I know from first-hand experience trying tons of email marketing tools.
Well after years of looking and testing I finally found one with all the features I needed.
So I wrote this post to save you from all that grief I went through.
Before I jabber for 2,000 words about how I came to the decision I will just say it.
Its Active Campaign.
Here is what I looked at specifically to come up with the decision.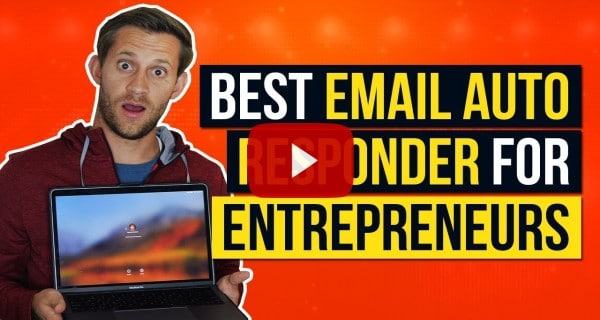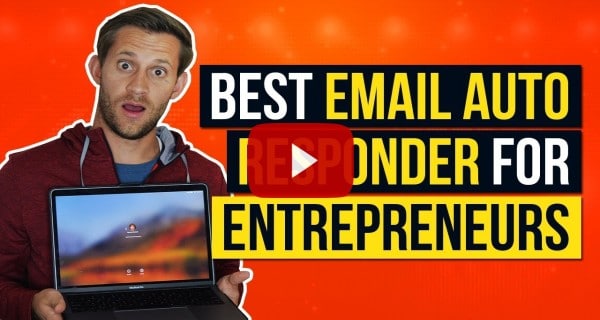 Deliverability
Most people don't even think about deliverability when choosing the best email autoresponder. It's never a listed feature, so why consider it? But the truth is nothing else matters if your emails aren't reaching inboxes.
There are a lot of factors that affect whether a piece of mail will get marked as spam or filtered out by email service providers. The last thing you want is to use a mailing software that has poor deliverability.
Luckily, there are tools out there that can test the deliverability of emails coming from different servers.Email Tool Tester has done the heavy lifting for us, testing and ranking software by deliverability: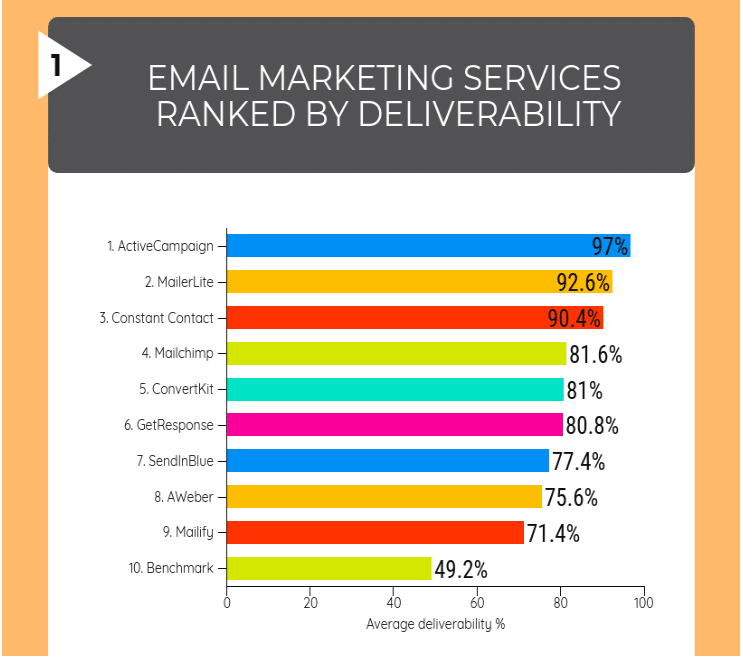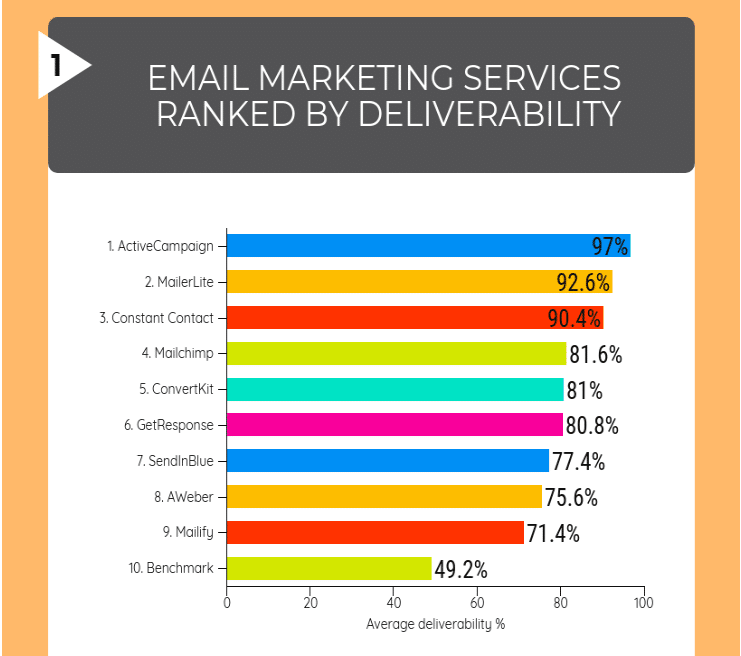 Several tools have a respectability high deliverability rate, but ActiveCampaign takes the win hands down.
If you're already using an email tool, you should be able to see the deliverability rates of your own emails in your analytics. If your software doesn't offer this statistic, that's a good sign their deliverability rate isn't what it should be.
2. Automations
Email marketing software isn't just about reaching your audience. It should also help you optimize your message and save time doing it. That's where automations come in.
The best email autoresponders needs to have strong automation features, such as:
The ability to trigger email sequences based on audience behavior
Optimizing delivery for different time zones
Conditional targeting with tagging
And more
Your automations could be a few simple triggers or complex conditional targeting based on audience behavior. Either way, you'll want a tool with a visual automation builder.
This makes it easier for you to understand the flow of your automations and make necessary changes accordingly.
This is another area where Active Campaign excels with their flow-chart-style automation builder.
They also offer pre-made recipes you can use to discover and learn about the possibilities with automations. GetResponse is another tool with strong automation capabilities.
3. A Strong Email Builder
The best email autoresponders don't just help you reach your audience.
They should also help you create beautiful emails with great user experience to encourage engagement.
That's why you need a strong email builder.
Most major email marketing options today have an email builder, but not all are created equal. Some are more intuitive than others.
In my experience, I've found that Mailchimp and Convert Kit have very easy-to-use email builders.
Active Campaign has a builder with all the customization features you need, but the interface is just a bit lacking.
They can't be perfect can they?
I decided this wasn't as important since the more beautiful an email is visually the less chance you have of getting into an inbox.
4. Site Tracking
Beginner entrepreneurs don't often think about the importance of site tracking features in an email marketing service. But as you learn and grow your strategy, it becomes an essential tool you need to segment and market to your audience through email.
Site tracking involves putting a piece of code on your website so you can track the behavior of individual visitors.
With it you can see what content your audience is consuming, what products they might be interested in, etc.
This is important information for several reasons:
Monitoring content performance
You can see what pages your audience visits most, how much time they spend on your site, and when they navigate away. Use these insights to understand what works for your marketing strategy and what doesn't.
Audience behavior on your website can tell you a lot about their needs and intentions. You can use this information to segment them and deliver a more targeted marketing message. For example, say you're a baby supplies ecommerce retailer and someone browses your products for boys. You can send them targeted product recommendations based on this interest.
Site tracking is super important if you want to get the most out of automation features. You can set automatic follow ups to trigger based on site activity.
For example, if someone makes it all the way to checkout without converting, you can have an automatic email sent out reminding them about their abandoned cart.
So, make sure your email tool has site tracking capabilities that are easy to set up.
Active Campaign, allows you to add site tracking code yourself or use a WordPress plugin to set it up instantly.
5. Contact Profiles
Most email marketing tools focus on making list management easy for you. But you also want a tool that gives you a quick look at individual contacts as well.
You want to be able to get a snapshot of how you've interacted with people on your lists.
This is really helpful for GDPR compliance and to make quick checks on contact management.
You can also easily make mass changes to contact profiles to better take advantage of your autoresponder features, such as conditional content.
6. Conditional Content
Conditional content is a feature that some of the best email autoresponders offer because 2020 is all about personalization.
This allows you to create dynamic content that changes based on individual contact attributes. Each email can be personalized to individual audiences.
For example, you can set content to only show a special discount for individuals who have expressed interest in a product, increasing their chances of converting: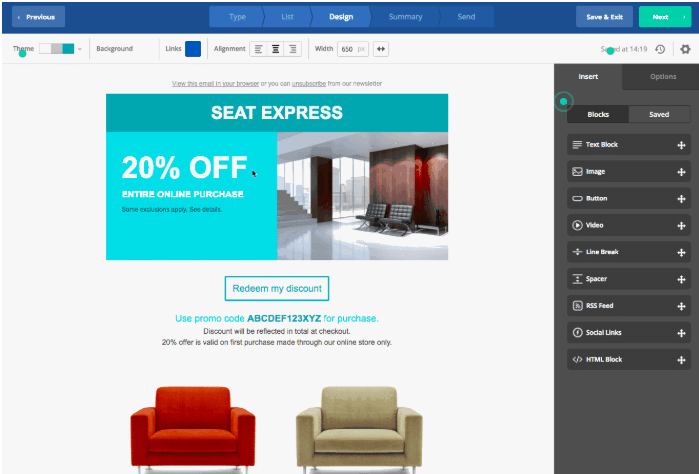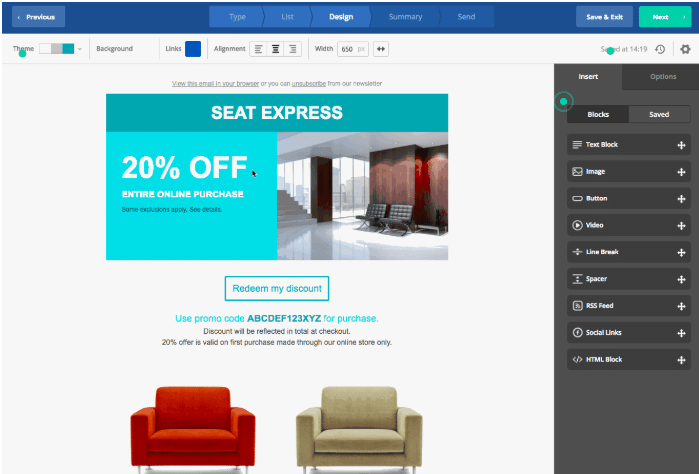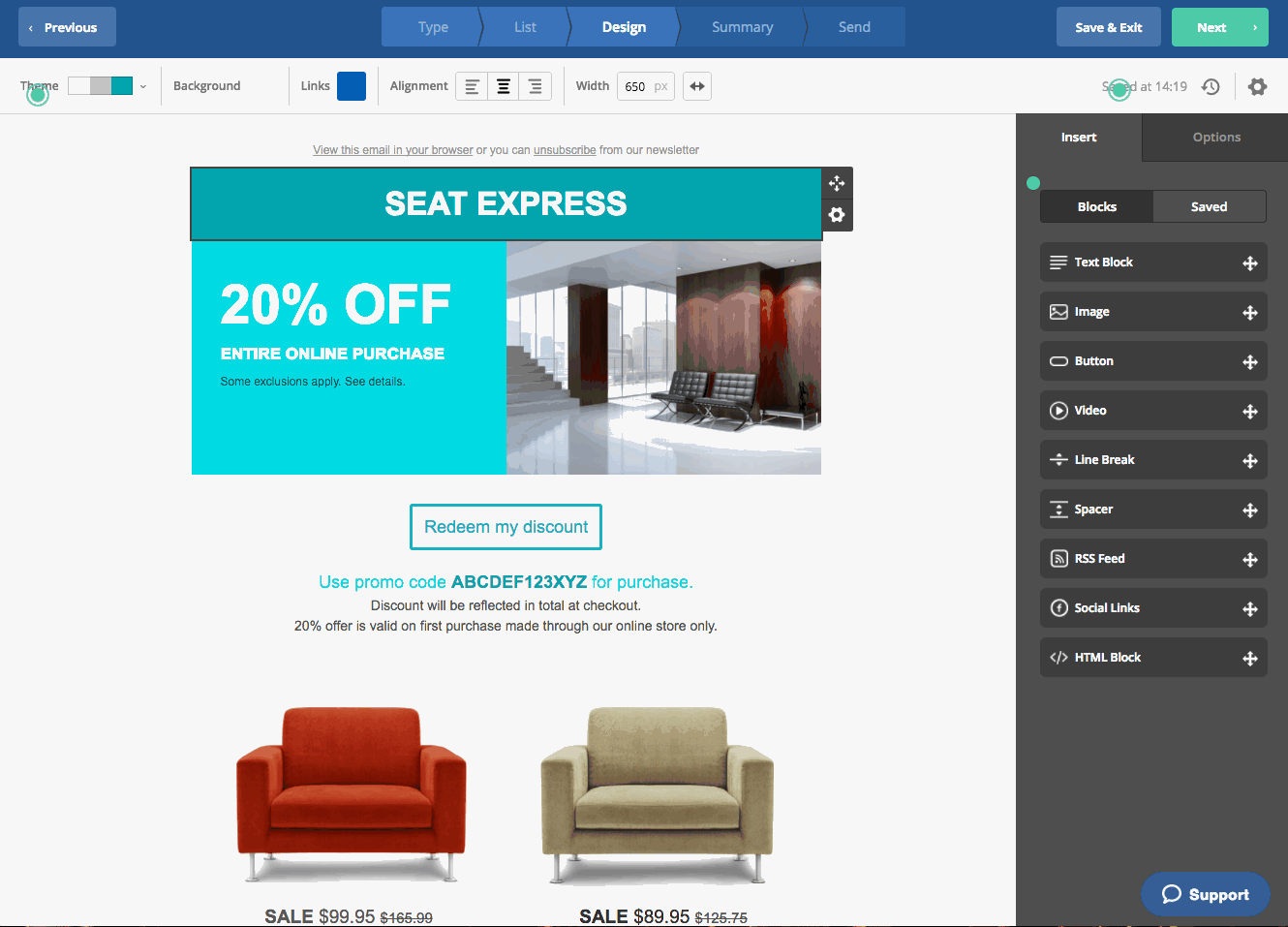 You can also hide products from people who might not be interested in them (e.g. hiding mens watches from female subscribers).
Conditional content is a great way to customize your email message without having to create separate emails and sub-segments for every little customization.
7. Good Value For Your Money
Just about every email marketing software out there has a tiered pricing structure.
They offer a basic service package with limited features for less money vs advanced features for more money.
The best email autoresponder for you offers the most features at the best price. Look for a software that offers the most features without forcing you to upgrade to a more expensive plan.
Look at Get Response, for example. Their cheapest pricing option is $15/month:


That's a real steal! But when you read the fine print, you can see the features are very limited. They only offer the most basic automation capabilities (workflows and tags) on the cheapest plan.
On the other hand, Active Campaign's cheapest plan is $17, so slightly more expensive, but it's not over yet!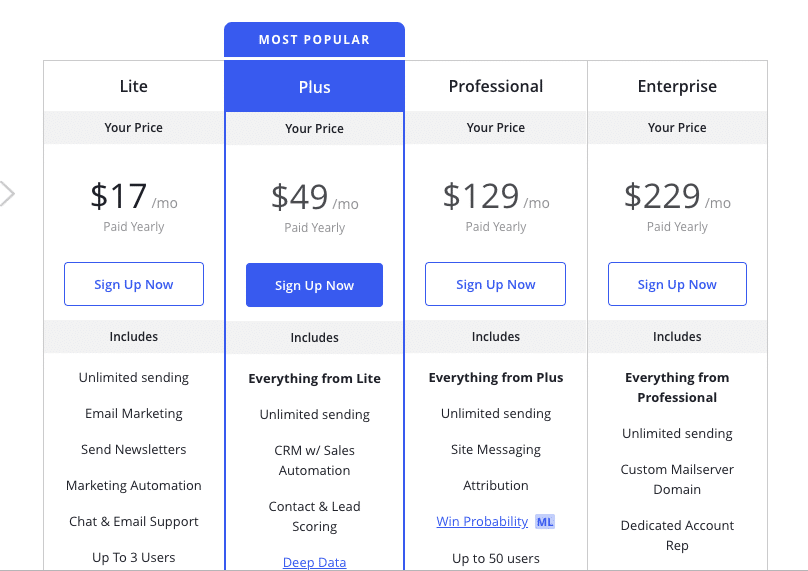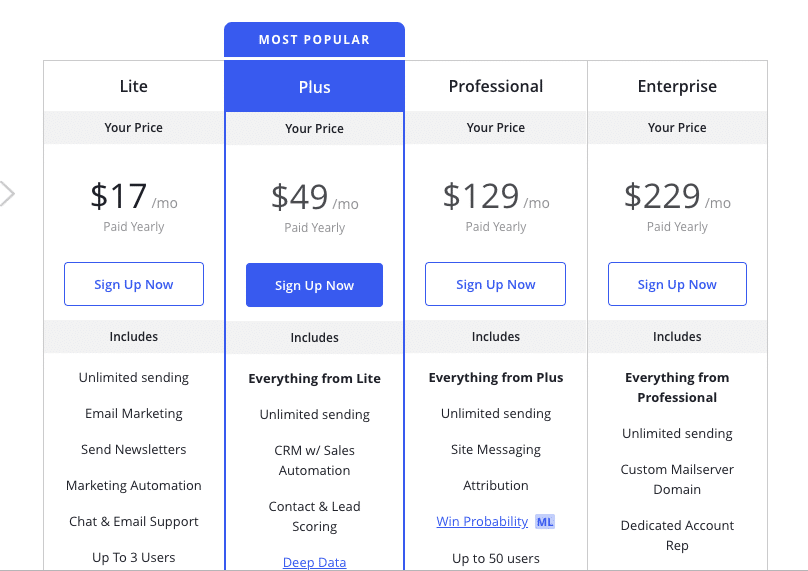 The plan gives you access to ALL of their automation features. Everything.
You also get unlimited sending, chat & email support and up to 3 users (compared to 1 on GetResponse). That makes the extra $2/month for Active Campaign's cheapest plan well worth it.
8. Email Marketing Service Support
Any new email marketing tool you try will be a learning experience. You need to teach yourself how to use their email builder, automation sequences, site tracking and more. Not everything is intuitive, so you'll want to refer to their customer service support team if you have any issues or inquiries.
Every email autoresponder service offers some kind of support, but not all are created equal.
Most only provide full support on the highest payment plans, leaving you to figure things out for yourself.
I personally value my ability to reach out to support through live chat any time of the day to get quick answers to my questions. So make sure you choose a tool that offers 24 hour support regardless of what payment plan you choose.
9. High Quality Reporting
When I first started out as an online entrepreneur, I was satisfied with the most basic performance statistics. Now I've learned how complex the path to conversion really is, and know in-depth performance reporting is a must.
The best email autoresponder will give you the best of both worlds:
A quick look at overall performance

Deep analysis of specific points
So even if you're not ready to take advantage of advanced reporting yet, make sure it's something your autoresponder software has.
Good software doesn't only offer all the right statistics, it helps you gain actionable insights from them. Look for a tool with visual reporting that's easy to interpret, so you can focus on the main issues you need to fix.
Then you can also dig into more advanced reports on the performance of individual campaigns, your automation sequences, and overall performance.
10. Split Testing
Split testing is another important feature you'll want your email marketing service to have. Split testing allows you to test and compare different versions of your emails with your audience.
You can test just your subject lines to see which gets a better open rate, or the body content of your emails as well. That's how you identify the best possible email to send.
One feature I really like on Active Campaign is the ability to spit test automations: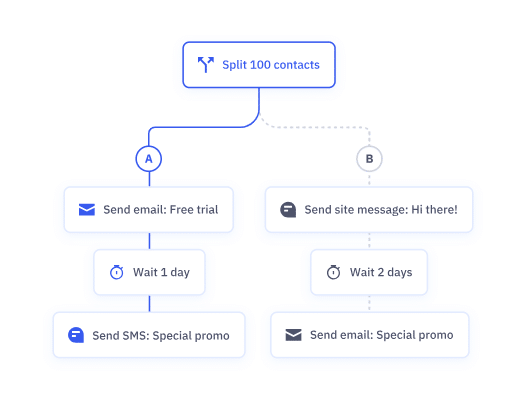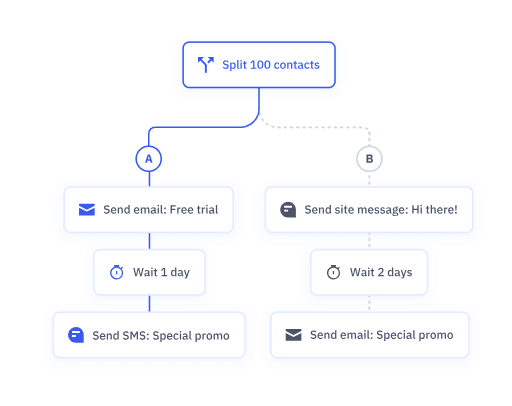 You never know what aspects of your automation sequence will affect how people respond to it. With automation split testing, you can start figuring this out.
11. Integrations
The best email autoresponders have features and analytic capabilities that incorporate the various tools you use to market online. To take advantage of this, you need the most important tools you use to integrate smoothly with your email software.
Maybe you use WordPress, Thrive, ClickFunnels, Woocommerce, form builders, or other tools.
Make a list of every important tool you use, then check to see if your email software integrates with them.
A quality email autoresponder will have a database of tools they integrate with and what capabilities they bring. If you can't find the integration you're looking for, make sure both tools work with Zapier.
Otherwise you're simply missing out on better targeting, funnels, analytics and improved efficiency that come along with integrations.  
Final Verdict on the Best Email Marketing Software
If you've made it to this point in the post, then you have a good idea of the most important features a quality email marketing tool should have. I built the list based on my own experience trying out seven different tools before finally settling on the right one.
It was a nightmare.
I can tell you right now that there's no single tool out there that's the best option in all these areas. But the one I've found has the best balance of the above features is Active Campaign.
In terms of what you'd want in an email marketing tool, it ticks all the most important boxes. It has top deliverability rates, powerful automation, is easy to use, and offers 24 hour instant support. Meanwhile their pricing structure offers the most value for the least amount of money.
You can of course do your own software research using the parameters discussed in this post. But I'm confident you'll come to the same conclusion I did: Active Campaign is the best email marketing software choice overall.
Thanks for reading.
If you want to learn more about succeeding as an online entrepreneur, check out these FREE Courses and MORE: https://buildapreneur.com/free
If you're ready to get started with email marketing, check out ActiveCampaign: https://buildapreneur.com/recommends/…